Trumpeter MiG-21 F-13 'DDR'
By Julian 'Jules' Hales-Sheffield England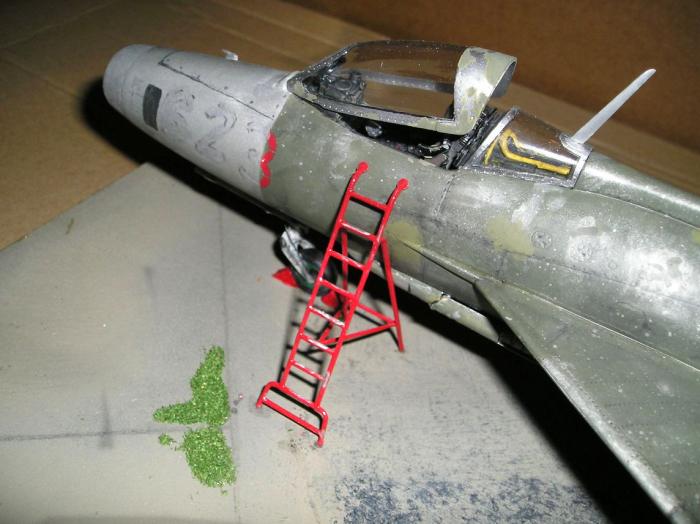 I decided to build this kit, as a gift to the father of my ex German girlfriend, his name is Rainer, in summer 05 he took me to Rothenburg Military Air Museum.I saw many various MiG-21's and SU's, Helo's and trucks. All I can say is wow...
In another return visit to Germany in 2005 I took him a 72nd kit, the recent new tooled Revell MiG-21 F13, that was a fantastic kitl, but for a 2006 visit, and Rainer's birthday I decided a huge 32nd kit was the only option!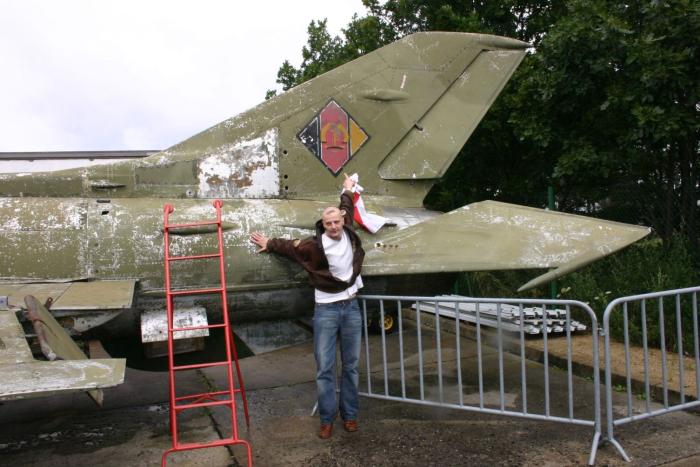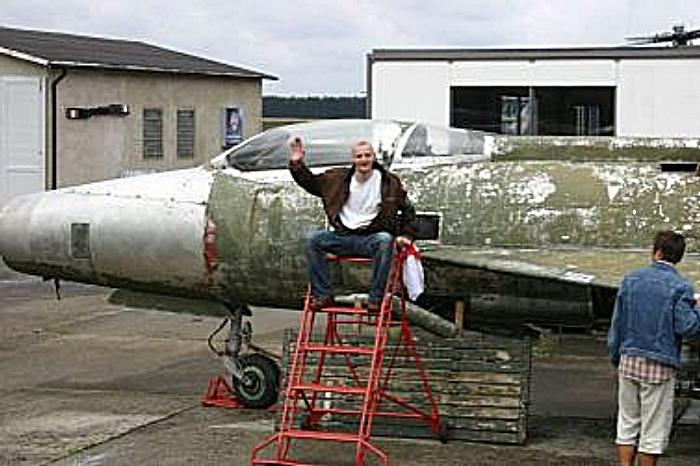 THE KIT
At the time I already had in my plastic stash, a 32nd MF and UM, but I wanted to so a F13 so I soon sourced a Trumpeter kit which did not include DDR markings, finding the correct decals would be a problem, more on that later.
I started on the cockpit, I have many MiG-21 books, being a fan for years, and I noticed the kit joystick was wrong, it was too modern for the kit, so a quick slice soon made it more accurate. The level of detail was good enough for me, careful painting and dry brushing was fine, the seat was ok, I didn't have the money to buy a aftermarket seat, that would have been better esp its a large canopy and I was having it slightly open. The kit allows flaps to be dropped, but not quite as much as the one I saw but I dropped them as much as I could.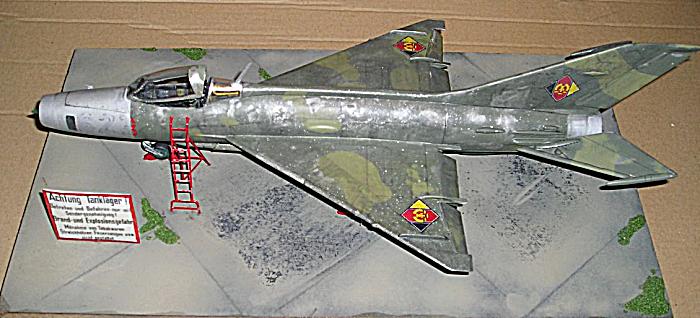 I was basing my model on a actual plane I had stood next too, and so had a few images which helped. The way the wings are fitted was new to me, not really a problem apart from getting the front aligned correct. The general fit I was happy with, I did have some slight problems getting the front and the rear to fit perfect, so sanding was needed, I wasnt using the engine or having it shown on the stand which was included to hold the read fusalarge.
The main problem I had was with the strut legs and small parts, none of the books showed clear and the instructions were not much of a help.
I left open the airbrakes, I had intended to leave off a few panels, as on the real plane I saw a lot of parts were just laid on the wing, but at the last minute I decided to fit them, but on purpose make the airbrakes open but not the same, one slightly broken.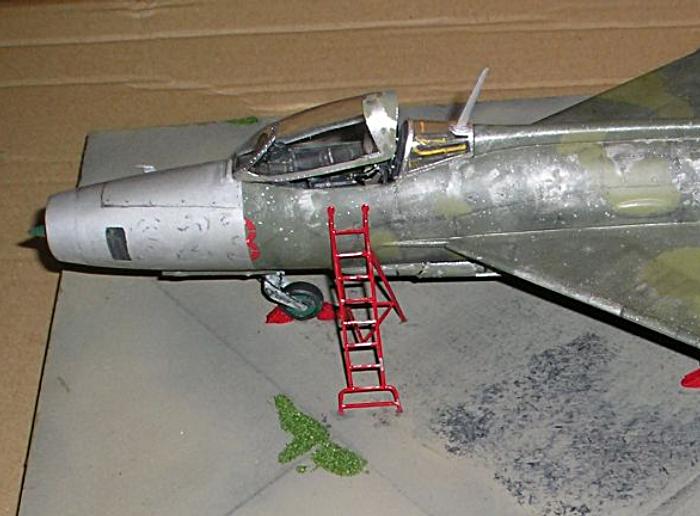 The canopy had a huge seam line running down it, now I had never removed one of these so I asked a guy I know if he could help, no tell a lie, I mentioned the problem and he came up with some help..
The wheels use a small screw that hold them in place, as my kit had to go about 2000 miles I added some superglue.
I left off all the weapons, there seemed to be a great many options but I did not need them.
I lost the detail around the nose cone and top panel just infront of the canopy so used a sharp pencil to pop it back on as best I could.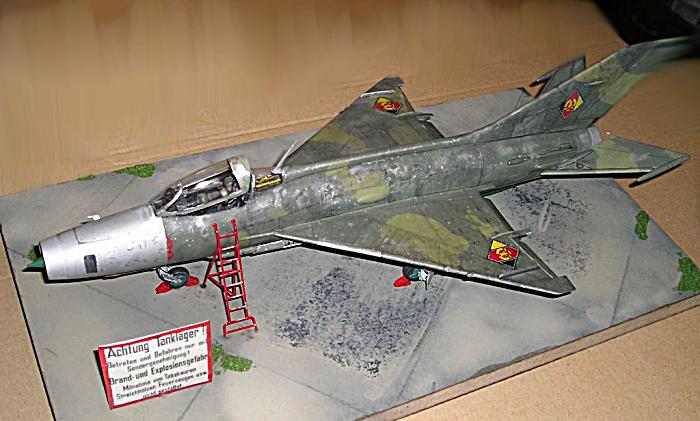 PAINTING
As the plane I was making was very old, and having a few images of the real thing, I just went to my paint stash, picked a few enamel colours, lightend them and did the biz, I also used some metallic silvers, and the new range of acrylic Revell paints, as I wanted to show differant shades ... due to ill health it can be so long beween making kits for myself, I forget new ideas I would have learnt, so its a case of learning to ride a bike all over. I used my finger for a way of buffing the silver panels, I used a mixture of hand painting and airbrushing. For the silver nose I used humbrol silver, then for the effect of the removed nose numbers I added a hint of black and hand painted them, using pencil to highlight parts.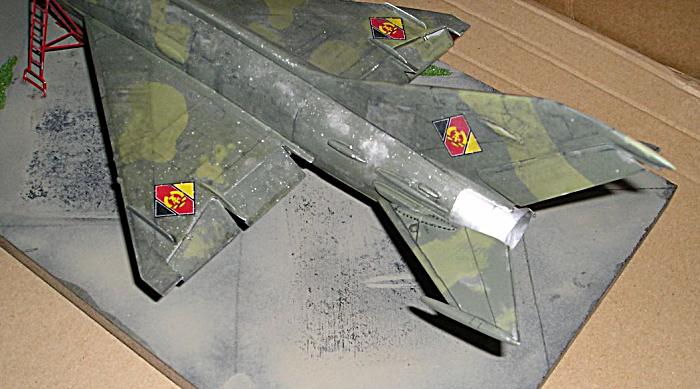 DECALS
In another visit to Germany in 05, I went to a model shop in Zittau, I just picked up some 72nd and 48th DDR markings, just for my decal bank, but I asked if they could get some 32nd ones but they said no......
In Feb 06 I emailed IPMS Deutschland I asked them if they could help me source some 32nd DDR markings, maybe from the IPMS decal bank like the UK one has, so some old decals from a part used sheet, and the reason why I needed them and I got a reply quick, they would again contact me in a couple of days.......
2 days later I was asked for my address, they could help, so I thanked them and waited. I didn't have to wait long, within days I was sent 2 BRAND NEW huge decal sheets, from the very start to the very end of DDR,all I could say was WOW!!!! I was also sent a copy of the last IPMS Deutschland mag and some flyers for the model show in Berlin for Sept 06. I was asked by the guy from the Deutsch IPMS to take some pics and write a small article for them, I now had the decals I needed and numbers, on the sheet you could see how the Insignia changed slightly over time, no problem for me, as I had the real plane to compare for what I needed!!!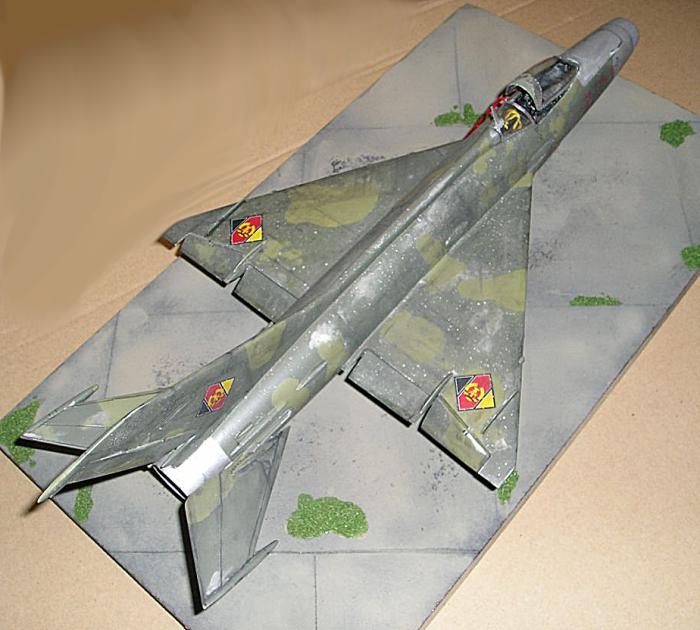 The decals went on great, I had used 'Future' floor polish to gloss the model (has anyone ever used the floor polish on the kitchen floor and not only just for modelling???). I got no silvering or breaking up of the decals, I just used sol and set. Then I added more 'Future' mixed with Tamiya matt to dull down the finnish.
I made some wheel chocks out of wood and painted them red, time was running out, my flight left for Germany in 2 days.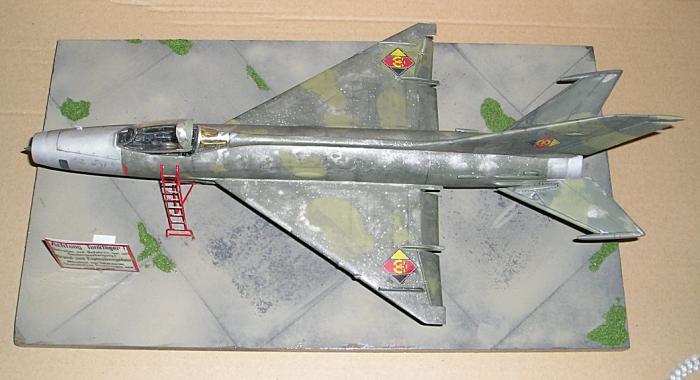 CONCLUSION
The kit is great, not perfect but I was pleased with it, it looks like a MiG, it feels like a MiG and it smells like a MiG!
I was worried how to get the model from Sheffield to Berlin in one piece. I had to carry it all the way and keep it in my hand luggage. It didn't get off to a good start, because as soon I left my house I broke off the rear tip of the fin, but I had taken a emergancy repair kit. In the end all that had come off by the time I had arrived was the landing gear doors and the canopy. Nothing major at all.There was no undernose probe fitted to the one I saw, so I didn't add it.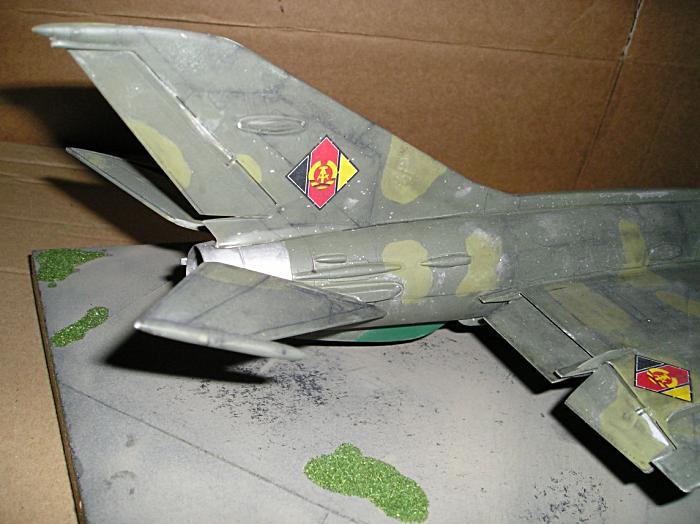 If you want a nice 72nd kit use the Revell kit, if you want a 32nd kit, then use the Trumpeter kit is all I say!!!!!!
I had wanted to give it to Rainer for his birthday on the 1st of May, just to say thanks for some nice trips in 05, but in the end I gave it to him on the 29th Apr instead. I had been working on it for a few months, since I had the idea in late 05 of what I wanted to give him for the next birthday, he seemed to like it when I gave it him.
I would like to thank Volker Helms from IPMS Deutschland for locating the decals, Herr Ott himself from TOM for the decals and my mate Gaz for the loan of the canopy polishing kit, but most of all I would like to thank the whole Klupsch family from Niesky, esp. Rainer for such a wonderful 05, E Germany holds many wonderful memories for me, having been a few times and I hope to go again soon having now explored the East and South East Germany many times.
cheers
Jules