Schleicher ASK 13
Czech Master Resin CMR72-G043 - 1/72 Resin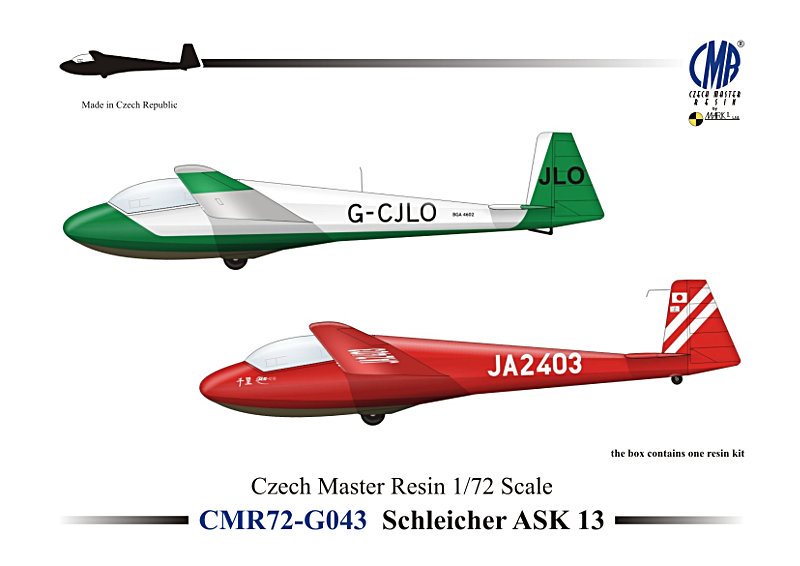 The ASK 13 is a (West) German two-seat glider designed by Rudolf Kaiser in 1965. It was evolved as a continued development of the preceding Ka 2 and Schleicher Ka 7 trainers using a mixture of materials including metal, wood and glass-fibre.
Its prototype first flew in July 1966 and by January 1978 a total of around 700 ASK 13s had been built by Alexander Schleicher GmbH. Being superb training glider because of its stall and spin characteristics, the ASK 13s were and still are widely used for ab-initio training of glider pilots not only in Europe, but also in the United Kingdom, the United States, Canada and Japan.
Colour schemes included in the kit:
Schleicher ASK 13 (s/n 13283), OK-0419 (ex-PH-419), Aeroclub Hodkovice, Hodkovice n/Mohelkou Airfield, Czech Republic, 2012
Schleicher ASK 13 (s/n 13512), PL63, Belgian Air Cadets, Zoersel-Oostmalle Air Base, Belgium, July 1999
Schleicher ASK 13 (s/n 13026), N1715, Burt Compton Enterprises Inc., Marfa Airfield, Texas, U.S.A., 2009
Schleicher ASK 13 (s/n 13669AB), JA2403, west Japan's branch of JSAL (Japan Students Aviation League), 29th Kuju Alpine Gliding Competition, Oita-Kuju Glider Port, Oita, Japan, May 2011
Schleicher ASK 13 (s/n 13618), D-5656, Segelflug Aukrug e.V., Aukrug Glider Airfield, Schleswig-Holstein, Germany, 2005
Schleicher ASK 13 (s/n 13608), G-CJLO/BGA4602/JLO, Bowland Forest Gliding Club, Chipping Airfield, Preston, Lancashire, U.K., 2009
Schleicher ASK 13 (s/n 13498), PH-521, Vliegclub Teuge, Teuge Airport, the Netherlands, spring 2009
This full resin kit contains 11 parts, vacu canopy (a spare set is included for modellers convenience), and a coloured photo-etched fret. A comprehensive decal sheet is included.