Bell AH-1G, Q/S Cobra
MPM - Preview - 1/72
As we have already announced in our Newsletter, we are preparing now early AH-1 Cobra model kits. The versions will be as follows: AH-1G early, AH-1G late and AH-1Q/S.
The project is now in its final stage that was preceded by many year´s preparations and searching for materials in which also the Viet-Nam vets and their descendants were involved. Mainly due to them we are able now to offer the AH-1 model as detailed as it is only possible in the 72nd scale. The whole model has been 3D-designed and will be injected into metal moulds. There will be a lot of alternative parts because of external differences between the respective versions and variability of armament. Common to all versions will be the tow-bar and wheels used for ground handling and also the possibility to have both cockpit covers in open or closed position.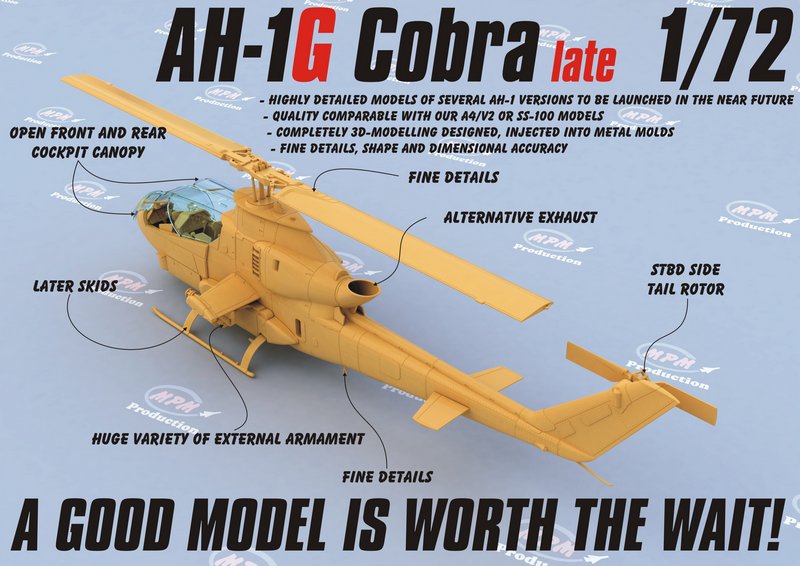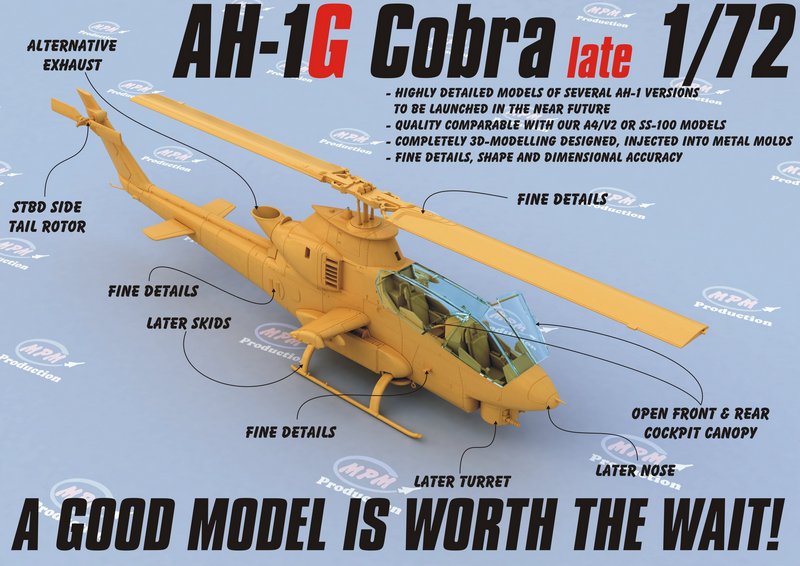 As you can notice in the pictures, there will be three different skid types, an early turret with either the minigun or the grenade-launcher as well as the later one with side-by-side installation of minigun and grenade-launcher (you can instal also two miniguns, the Cobras did flew like this). External armament of the G version contains the M18E-1 (minigun) pods, M35 system (M61 cannon with magazines) and various rocket launchers. In the Q/S version you´ll get different cockpit and in addition to standard G version armament, also the anti-tank TOW missiles, as the AH-1 Q/S versions were designed chiefly for attacking the enemy´s armour. Also the main rotors, their mast and its attachment to the fuselage is different in each version as well as the tail rotors. While preparing the model we put great emphasis on the overall accuracy, detail fidelity and also on very easy assembly. Naturally, there will be locating pins in the fuselage halves and smaller parts locks assuring their correct position. So, you will be able very soon to see all these new Cobra models which will be: SH72076 AH-1G Cobra early, SH72274 AH-1G Cobra late a SH72277 AH-1Q/S Cobra.
Good models are always worth the wait!

MPM Production